Save Oregon's Democracy
Vote NO on Measure 90
Measure 90 Summary
Measure 90 proposes to make Oregon a "Louisiana Primary" state:
No party nominations via primaries for all but President.
Limits ballot to the top two vote-getters in the primary for the general election.
Unvetted party registration would appear next to the candidate name directly on the ballot.
Parties may endorse in private but may no longer nominate most offices.
State may not require that parties democratically determine endorsements from all members.
Accepted endorsements placed together on the ballot next to the candidate name.
Party primary nomination and signature drive nomination to the general election repealed for most offices.
Top two who advance may be from same party, and that party need not be the majority party of voters.
May only vote for a first choice despite a large field of mixed-party candidates.
No minimum required vote percentage for the top two who advance.
No limit on number of candidates in primary registered from each party.
Vote NO against Measure 90
and Big Business:
Oregon Assn of Hospitals & Health Administrators, Associated Oregon Industries, Oregon Restaurant & Lodging Assn, The Standard Insurance Company.
Oregon's largest and most powerful business lobby groups, millionaires and billionaires, and the Koch brothers are backing Measure 90, a redo of 2008 Ballot Measure 65 that voters rejected 66-34. Please visit NoOnMeasure90.org, Protect Our Vote Coalition, for the coalition campaign site. This site was set up in 2008 to oppose the original Measure 65 by independent grassroots activists and is now expanded to oppose Measure 90 (2014). It now includes substantial information from the experiences of other states that have recently gone to the "top two" primary, including Washington (since 2008) and California (since 2010). On the left sidebar bottom, one can find older articles archived from the previous campaign.
Also, be sure to read the Portland City Club Research Committee report on Measure 65. Scroll to pages 15 through 36 to read about the measure. It's the most thorough report on the original Measure 65 that exists.
---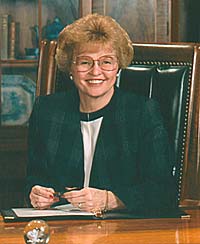 Former Oregon Governor
Barbara Roberts on Measure 90
Fellow Oregonians,
I strongly urge you to VOTE NO on Measure 90.
We all want government to work better; we all want our elected leaders to work together. However, Measure 90 is definitely not the solution to solve political party friction.
This measure would severely limit the choices available to voters on the General Election ballot. Minor party voices would be silenced and voters would often be forced to choose between just two candidates from the same party.
Under this proposed election scheme, Democrats could be forced to either vote for a Republican in many races, or not vote at all. In other districts, Republicans could find their only choice is a Democrat in the fall election.
California and Washington have tried this experiment. We should learn from their mistakes.
In Washington State in the fall election, Congressional District 4 voters will have to choose between two conservative Republicans with almost identical platforms. The nearly 80,000 people who voted for a Democrat in 2012 will have no candidate who represents them on the 2014 ballot.
California's Congressional District 31 faced an equally limited voter choice in 2012. This Democratic-majority district fielded four Democratic candidates. Only two Republicans entered the race. Democrats split the vote, clearing the way for both Republicans to win the primary contest.
That is not choice. It is not democracy. And there is nothing "open" about this new election proposal.
"Multi-party primary" election campaigns would begin earlier, be more costly, promote voter confusion, and frequently create fall elections with fewer choices for Oregon voters, including effectively forcing minor parties off Oregon's November ballot.
If the well-intentioned aim of Measure 90 is a more moderate, "play-nice" legislature, this clearly misses the mark. It is an experiment in wishful thinking.
The losers will be Oregon voters with diminished electoral choices.
Please join me in voting No on Measure 90. It is not a solution.
Governor Barbara Roberts